We specialize in elopement photography and intimate weddings, this allows us to work with couples who are choosing to have a more intimate and personalized celebration.
Our 10 + years of wedding photography work in this city give us a strong understanding of the needs and preferences of couples planning an elopement. This includes being familiar with different elopement locations, offering flexible packages and services to meet the specific needs of each couple, and being able to adapt to different shooting environments and circumstances.
When you hire us as photographers for your elopement we will do much more than just show up and take photos. As elopement photographers, we help with location research, timeline planning, info on permits & license gathering, etc…
Many couples choose to have their wedding at Manhattan's City Clerk because of its central location and vibrant feel. Additionally, getting married there is generally faster and less expensive than having a traditional wedding ceremony. If you decide to opt for a NY City Hall wedding we recommend you take a look at our guide.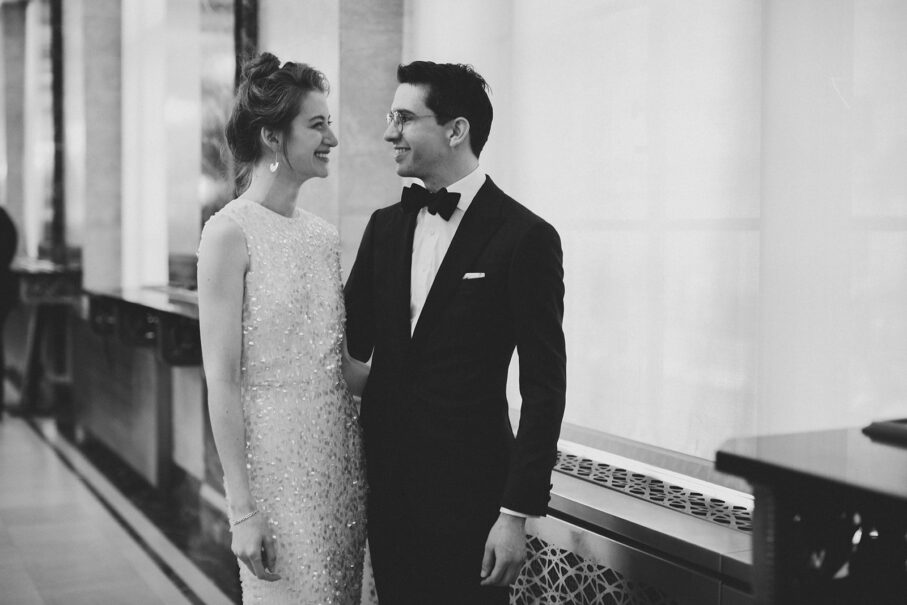 Since this is a celebration for just the two of you and your dearest ones we believe it's essential to listen to your needs and collaborate with you to help you represent the day the way you envision it. Not sure what to expect or where to begin with wedding planning? Considering how fast news changes day-to-day we are happy to help you safely navigate all the possibilities. We have implemented the SWEET ELOPEMENT PACKAGE which includes the photography + officiant for the ceremony, and a ton of planning info we will be happy to share with you.
Lately, we have seen how couples want to do a small elopement-style ceremony followed by an intimate wedding celebration afterward. A small wedding reception has a personal charm that allows the couple to celebrate their special day with their closest friends and family in a more relaxed and meaningful setting. Unlike larger receptions, a small gathering provides the opportunity for the couple to focus on the quality of their interactions with each guest, creating lasting memories that are cherished by all.
Below you will find a few of our NYC Elopement sessions: